We invite you to read about Red Coats in various articles and interviews.
Some out-of-the-box thinking for your Wedding Dress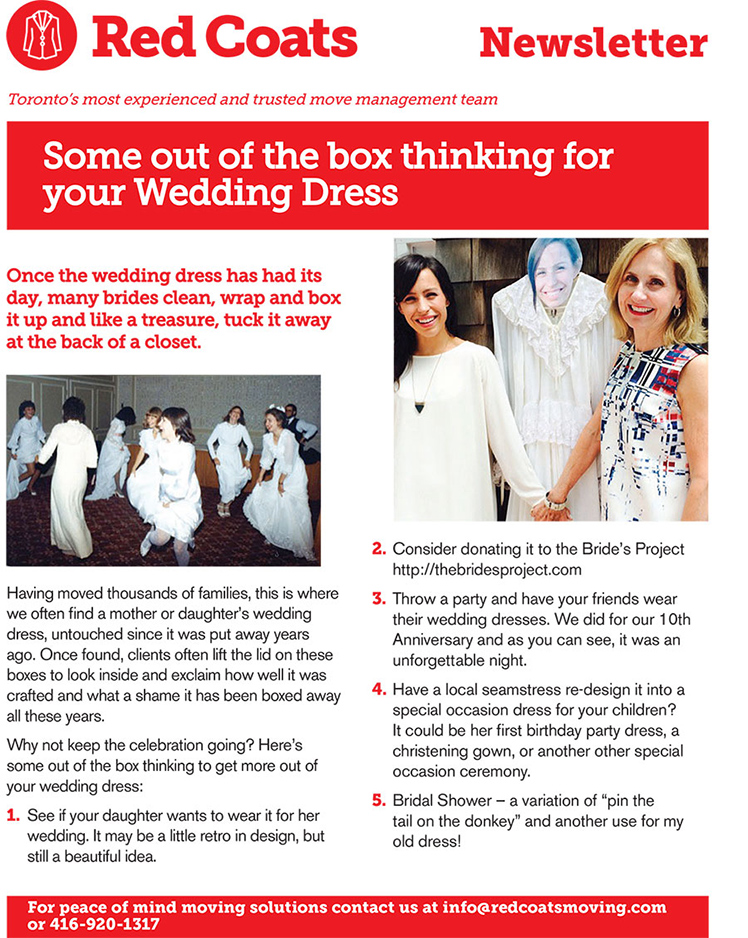 Watch a recent interview with Vicky
Saying Goodbye to it All... Except my Mother's Wingback Chair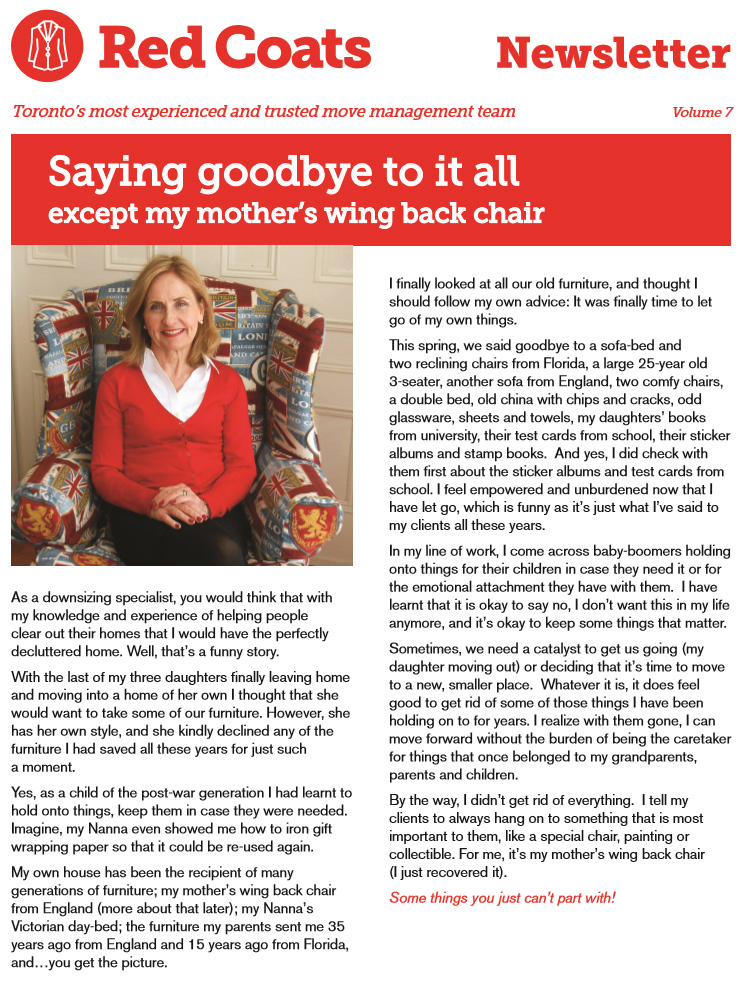 Check out Red Coats downsizing solution for busy people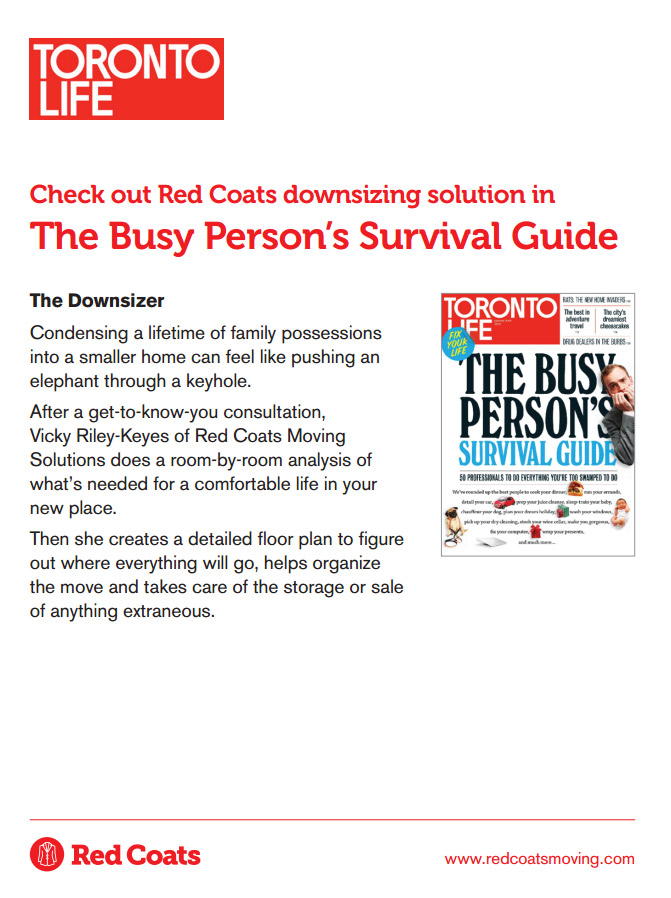 Red Coats helps boomers ease transition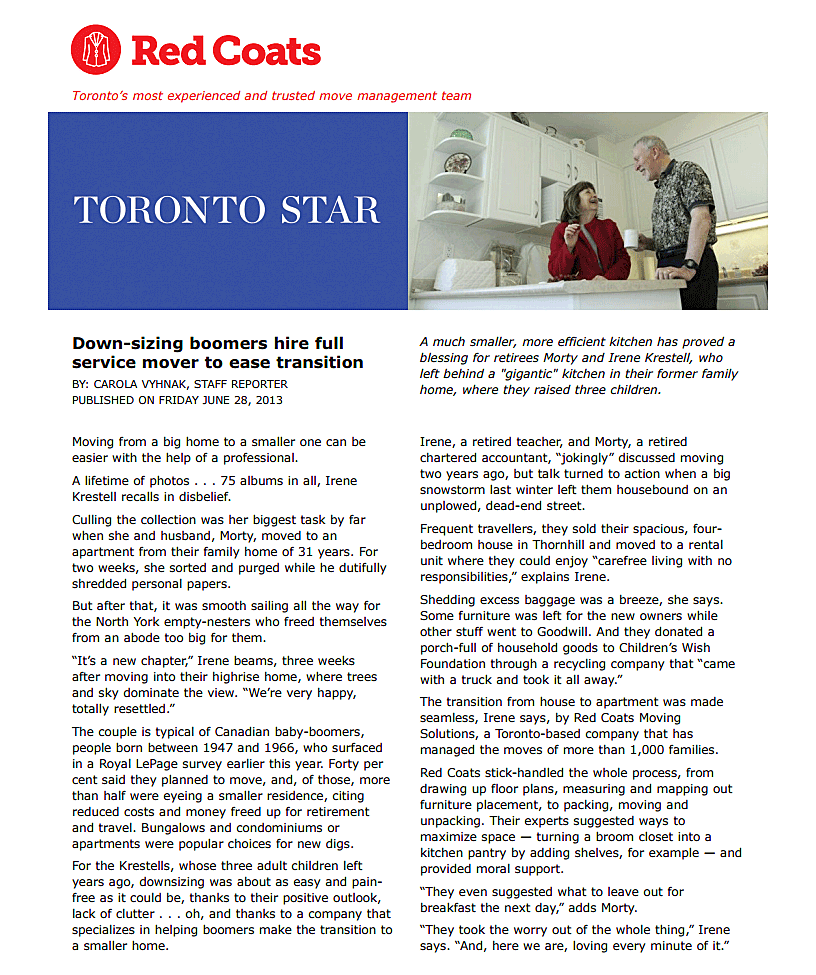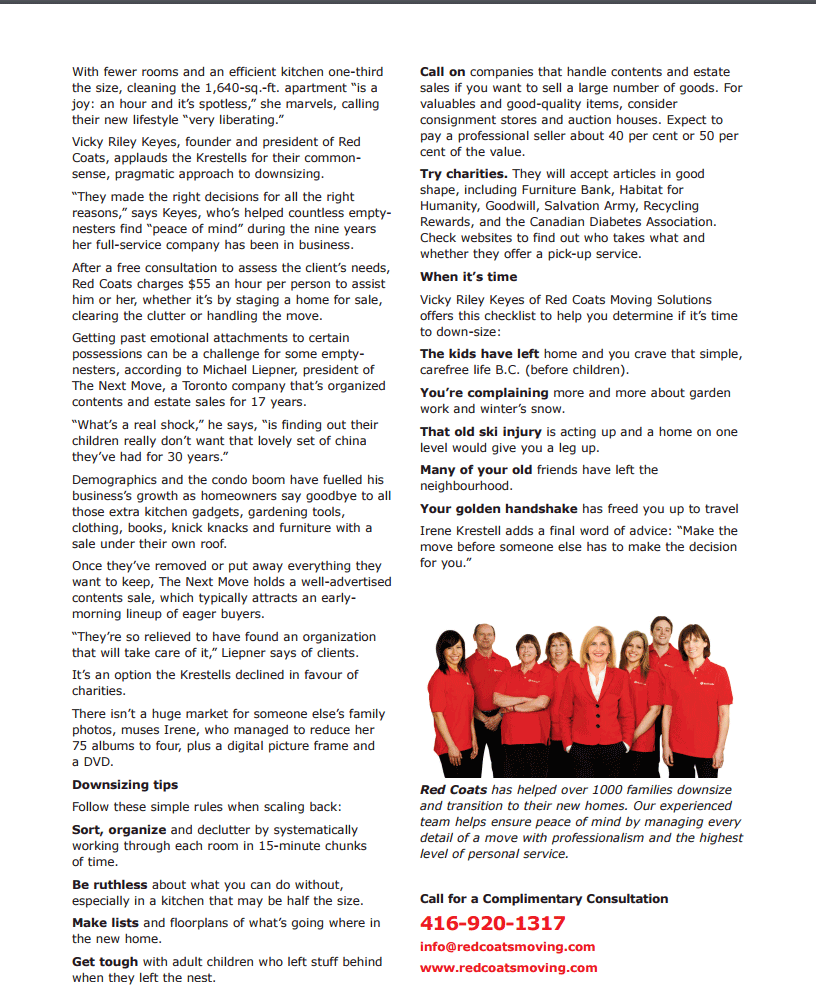 Don't get caught in the storage trap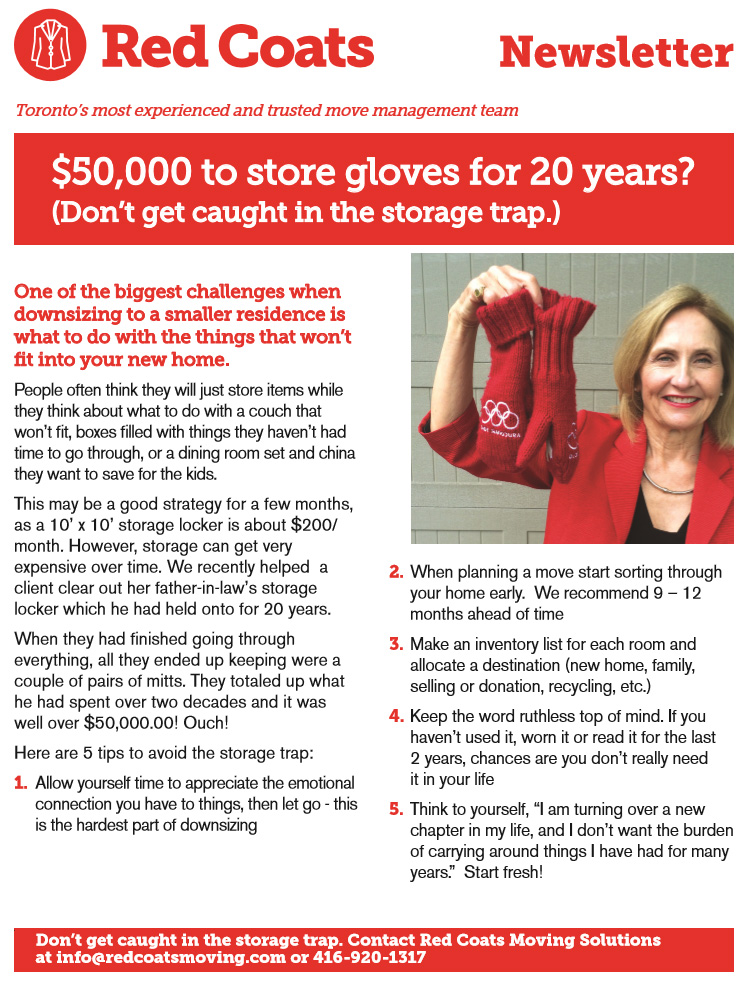 Top Ten Tips to Stage Your Home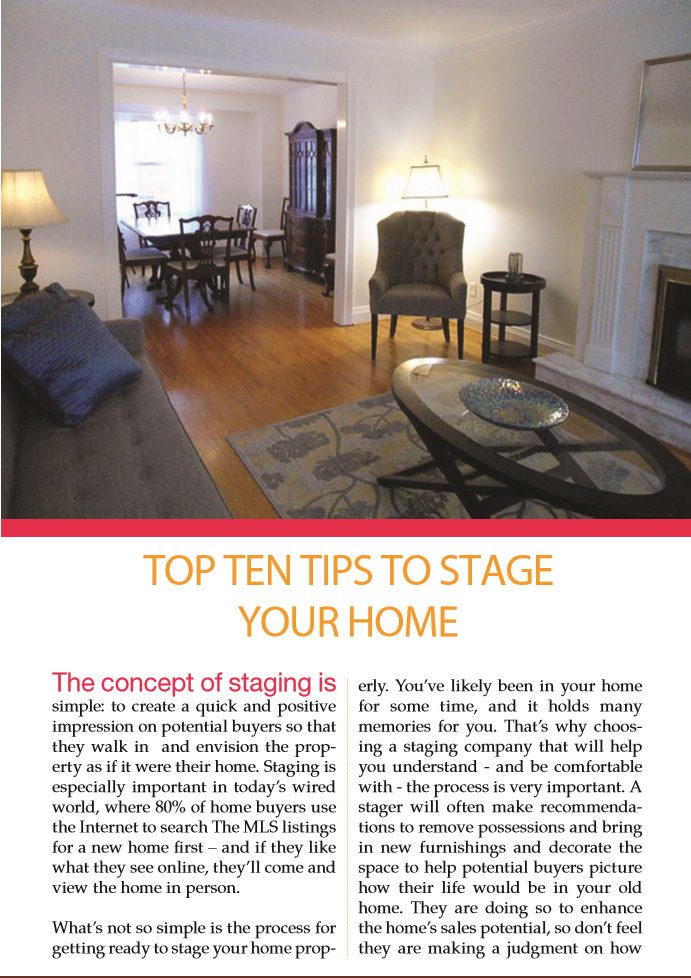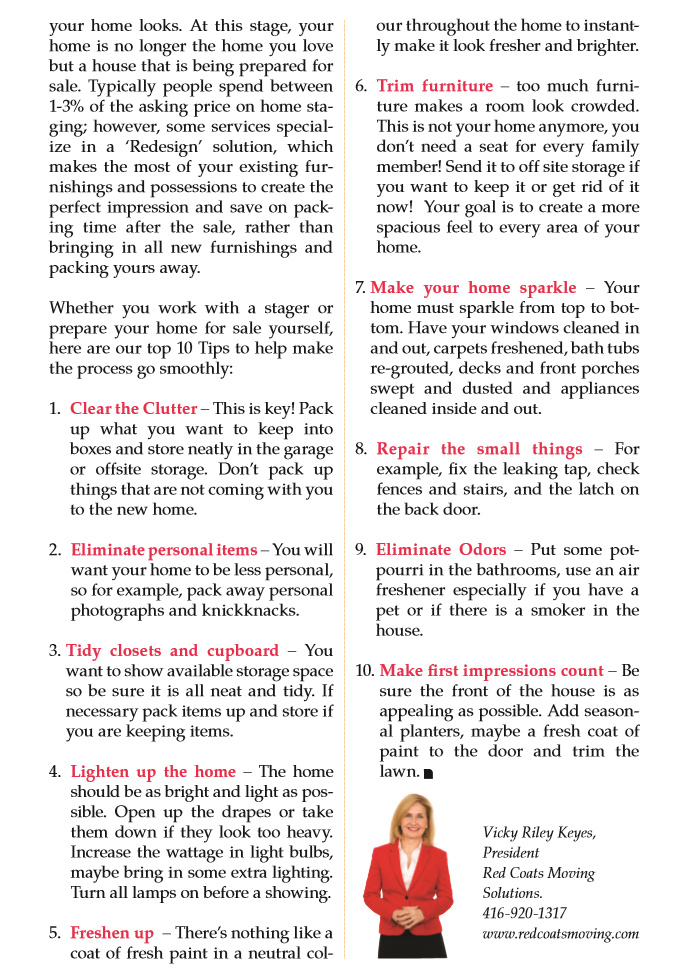 Packing up a lifetime of memories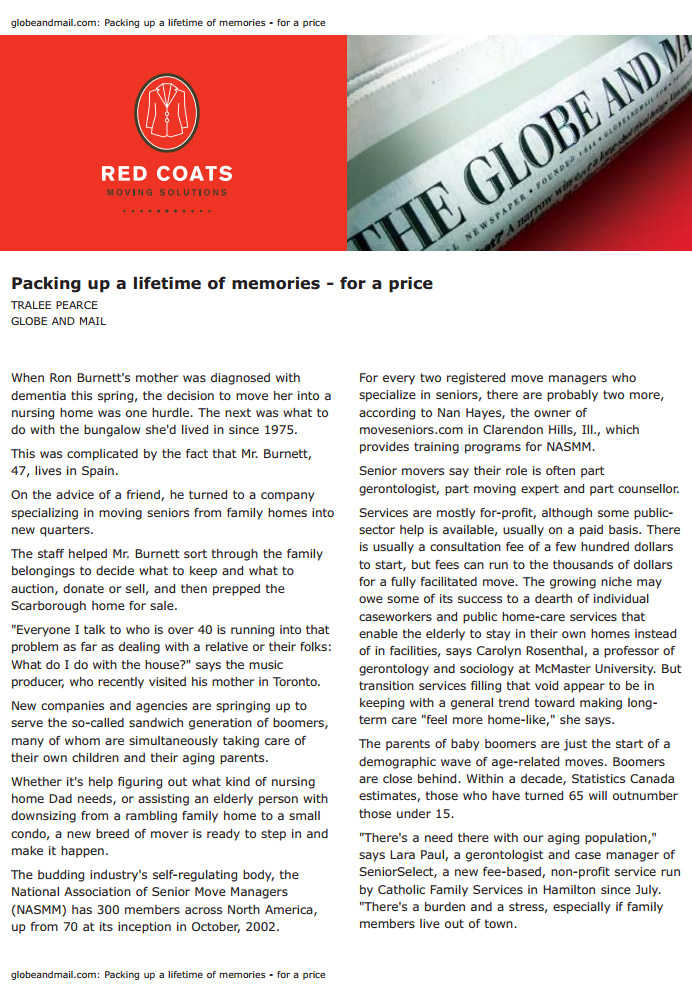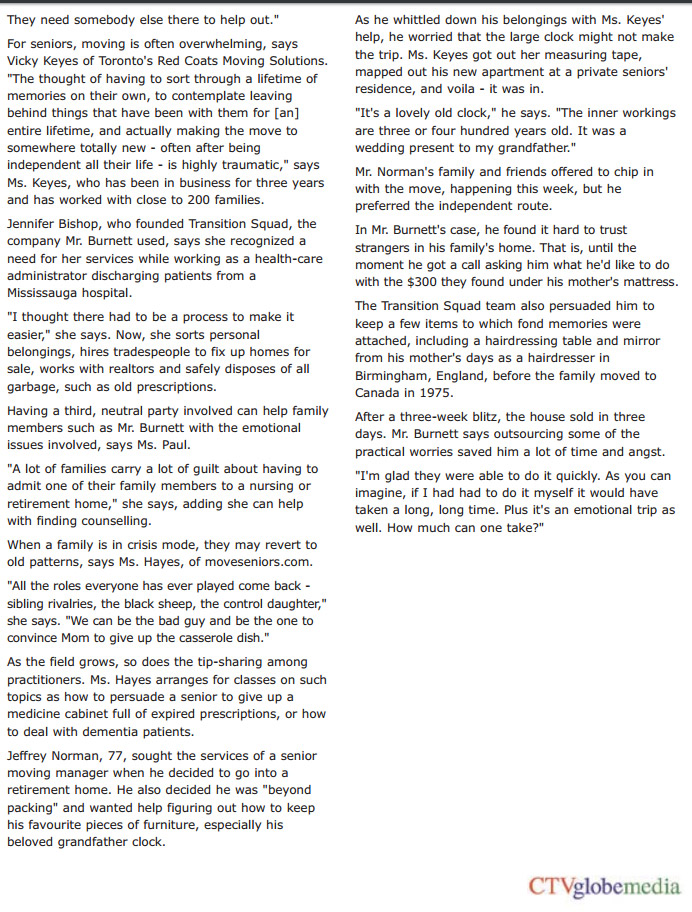 Your children may not want the crystal…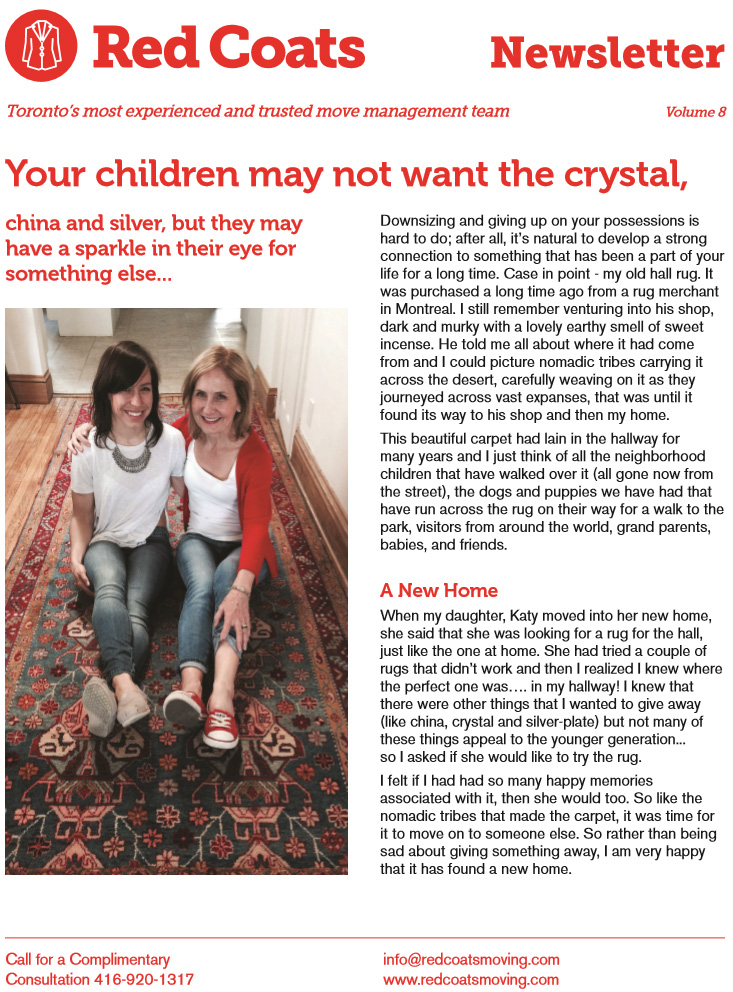 Benefits of hiring a move management company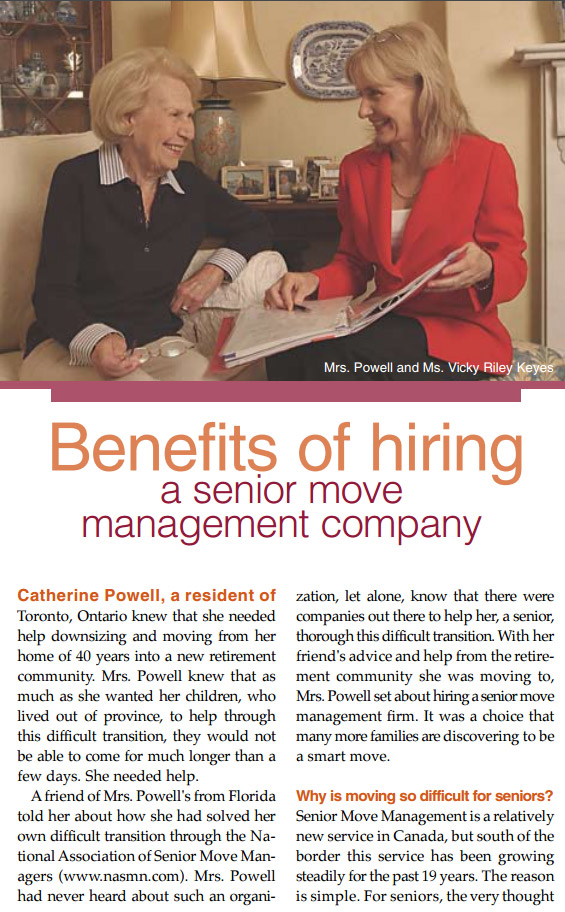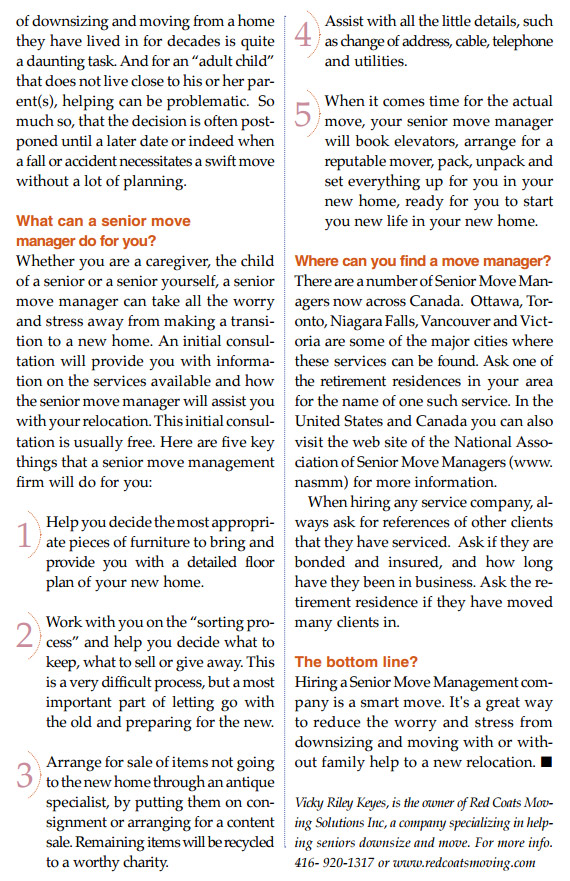 Tips for Downsizing
A well-planned move can have a huge impact on your settling quickly and comfortably into your new life. If you have lived in your home for many years the thought of moving can be quite overwhelming. However, with these great tips you can start preparing now!

Make a date with yourself once a week for 2/3 hours. You are setting aside time for sorting through your home. Remember it has taken you many years to accumulate things; it is going to take you some time to let them go.

Pick a "magic" number and stick with it. If you do like to keep boxes for potential gifts limit your collection to four and don't add anymore until you have used one up.

Have three sorting piles: 1/keep; 2/sell, donate and recycle; and 3/rubbish. Remove the donations and rubbish as soon as possible.

When sorting clothes take all of them out of the closet and put them on the bed. Hold the item up to yourself, if the colour gives you a lift and you feel good about it, keep it, if not let go.

Try each pair of shoes on to make sure they fit comfortably and you can still walk in them! Those high heels sitting in the back of the closet may be ready to be recycled.

Use birthdays and special holidays to give away some of the things you don't use anymore. One of those pretty teacups and saucers filled with Valentine chocolates might be a nice gift to a granddaughter; the whole collection is not.

Most importantly, take the time to say goodbye to the things that are not coming with you.
How to downsize your kitchen (and still add some spice to your life)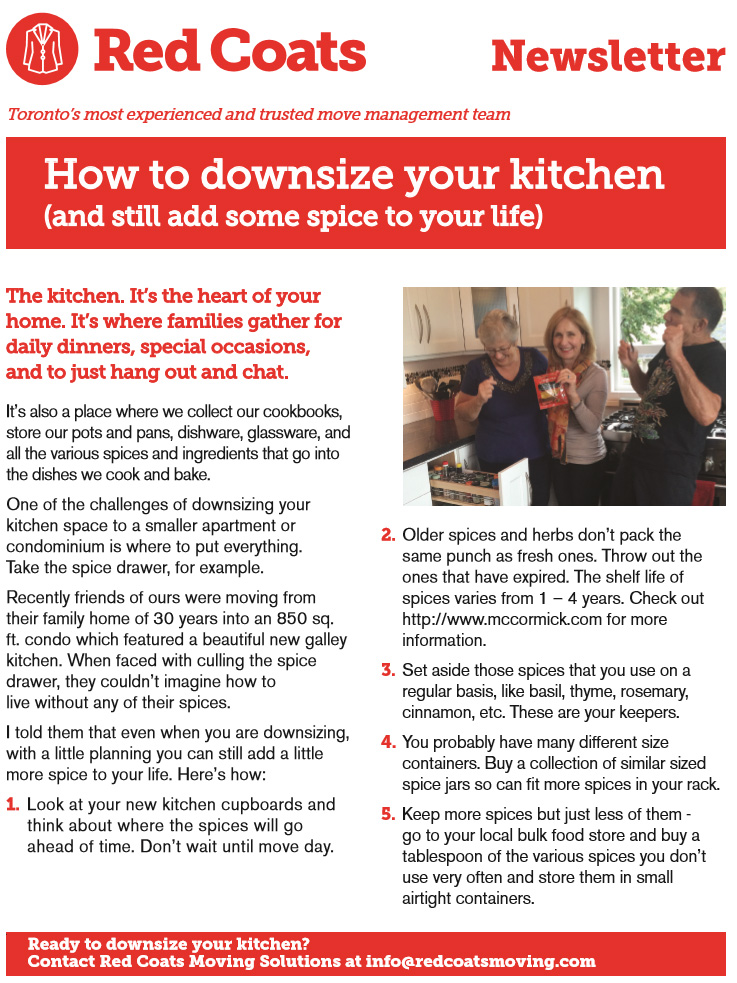 On the buses with Red Coats

Out of the box thinking about your wedding dress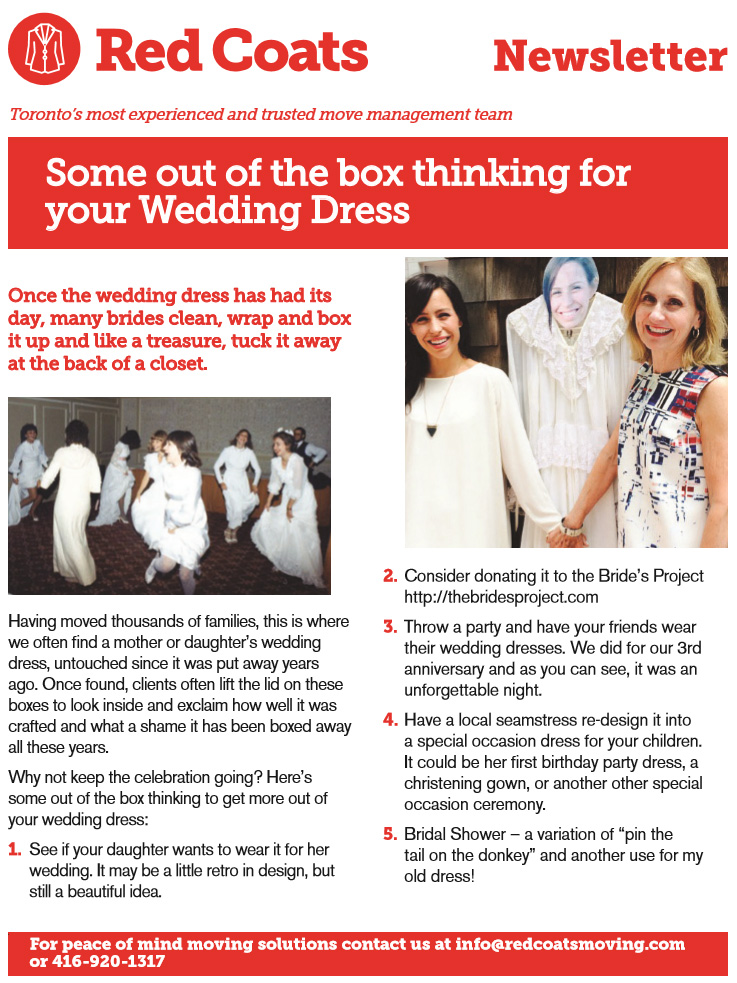 10 tips to help you move with peace of mind
By Victoria Riley Keyes,
President

Are you an older adult thinking about moving from your home to a smaller apartment in a senior community? Or are you a caring family member or friend wondering how to help an adult move with as little stress as possible? Here are 10 tips to help you get started:

1. Rightsizing to your new home As you are rightsizing to a smaller home many items have to do double duty in a smaller space. For example, nesting tables and small round tables are good pieces to use instead of a large coffee table.

2. Start at the 'heart' of your home Where do you spend the most time in your home right now? Is it is a favorite chair by the window, a sofa or perhaps your study? Build your furniture around your favorite place to sit. The biggest mistake is to bring too much.

3. Sort through your possessions early Start sorting early, but limit it to a couple of hours a day. Create three piles: things to keep; things for family and friends; and the third for removal.

4. Check your closet space You will likely have less closet space in your new home so you will have to start paring down your clothes. If you haven't worn or used items for a long time, it's probably a good time to let them go.

5. What to do with what's left Charities, your local place of worship and antique dealers will often take things. Finally, there are firms that will haul the rest away at a cost.

6. Take time to say goodbye Take the time to go through your lifetime possessions. Share or reminisce about the memories with a family member or friend. It is the hardest part of downsizing, but the most important part.

7. Book your moving date Get quotes and references from several movers. Check the mover's references and get a couple of quotes. Book your move for the morning and mid-week when it is less hectic.

8. Keep track of what you pack As you're packing, keep an inventory of what goes into each box and label which room it's going to in your new home.

9. Moving day If possible, have someone with you on moving day. Make sure you have your valuables, medications and important papers packed separately in small tote bag and transport these yourself.

10. Enjoy your new home By planning ahead, you can have a successful move and start enjoying your new home from the day you move in.
We can accelerate the sale of your home
Stage 1: Initial work will be with one of our Red Coats experienced professionals to sort through your house until every area has been visited and decisions made on your possessions.

Stage 2: A team of Red Coats associates will pack up, number boxes and provide an inventory list of all items "tagged" for new home. Boxes will be stored until after the home has been sold.

Stage 3: Wherever possible, our staging experts will work with your existing furniture and bring in quality accessories as required to enhance the sale of your home. This process includes the movement of furnishings and accessories to your home. Be assured that once the staging day is completed, you will be able to comfortably live in the home until it is sold.

Stage 4: After the home has been sold, a team of Red Coats professionals will return to your home and remove all staging items.

Stage 5: We will work with you to provide the most efficient and cost effective way to dispose of your remaining possessions. If at all possible, we will sell items on your behalf through specialist buyers, consignment, auction, etc. For items not suitable for the above, we will arrange for distribution of final possessions to local charitable organizations to ensure nothing goes to waste.
Great ways to help you downsize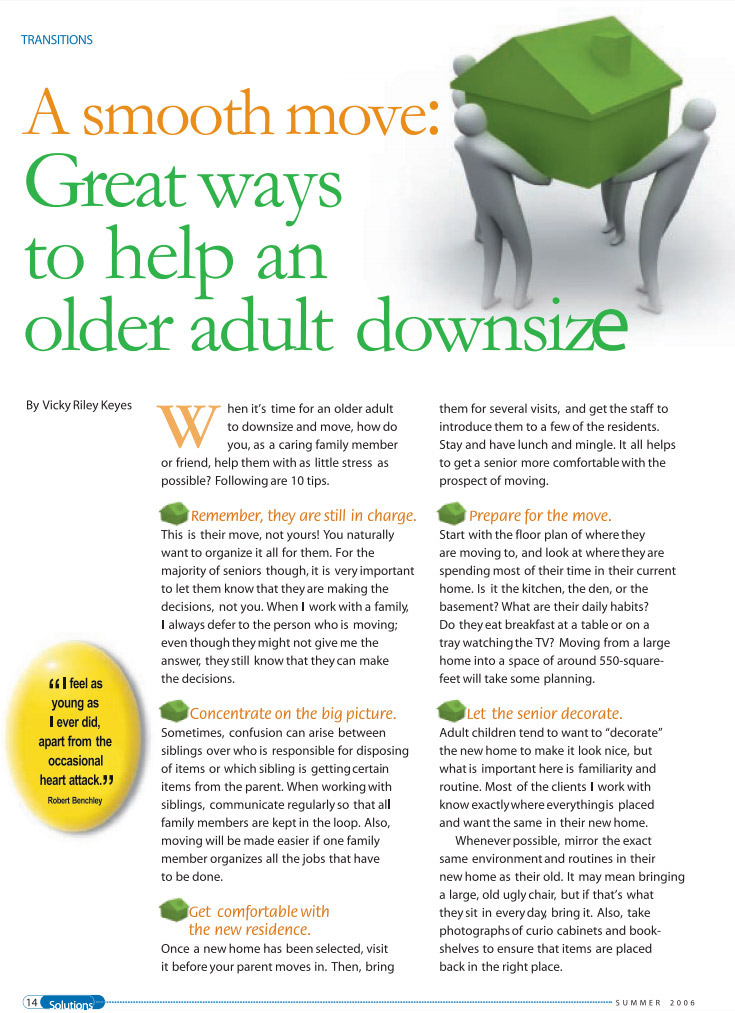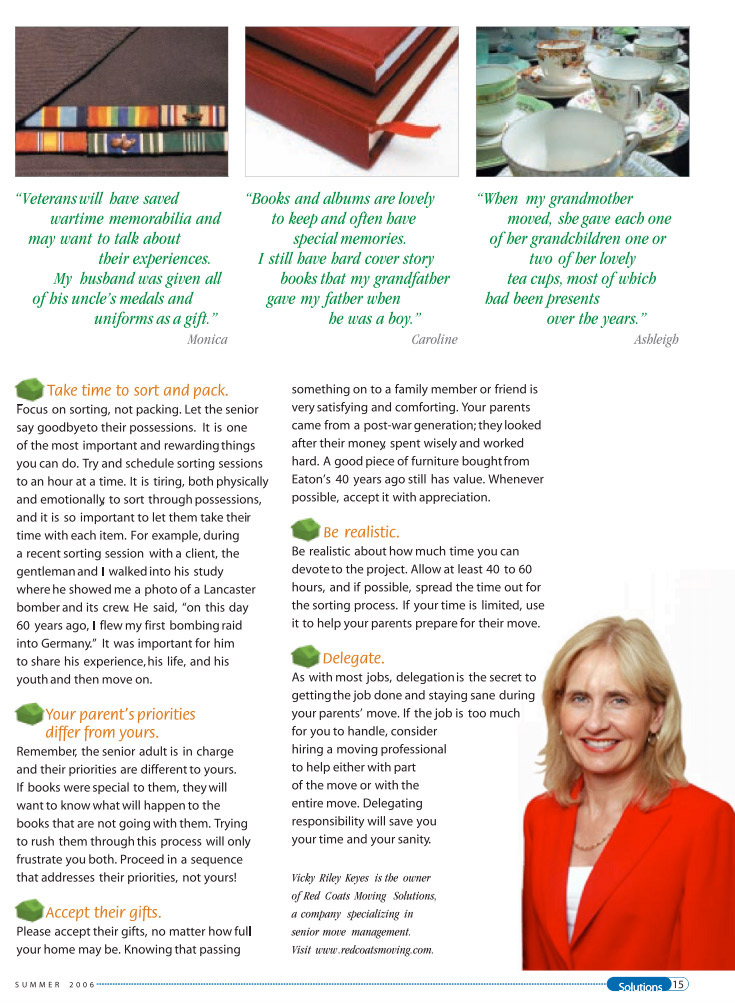 10 Steps to Simplifying Your Move